Lamborghini Rental Dubai is a great way to spend your holidays in the UAE or impress your friends or business associates.

Why rent a Lamborghini in Dubai?
There are many reasons why you might want to rent a Lamborghini in Dubai. In this article, we will look at some of them:
Exotic driving experience: Dubai is famous for its extravagant lifestyle and luxury sports cars, and renting a Lamborghini will give you an exciting driving experience that is hard to replicate anywhere else.
Impress friends and acquaintances: Lamborghini cars are known for their colorful sports car design and shocking performance. Driving such a car can be a great way to outshine others and promote yourself.
Celebrate: Renting a Lambo can be a great way to celebrate a special occasion such as a wedding, anniversary or birthday, or give your girlfriend an unforgettable experience.
UAE Travel: There are many iconic places and sights in Dubai and Abu Dhabi and driving a Lamborghini can be an exciting way to tour the city and see unforgettable and beautiful places: Burj Khalifa, Burj Al Arab, Atlantis Aquaventure waterpark.
Business meetings: Rent a Lamborghini for business meetings and impress your partners. Renting a Lamborghini will help create a luxurious and sophisticated personal image or image of your company.
In general, if you decide to rent a Lamborghini in Dubai, you will get unforgettable impressions and positive emotions from driving a car.
What car models are available for rent?
Lamborghini offers a wide range of sports cars, including:
Lamborghini Huracan. The Lamborghini Huracan is a high-performance sports car that is produced in Italy. Car design that is aggressive, exceptional handling, and impressive speed – all of this is a thrilling experience for any driver who enjoys the outdoors.
Lamborghini Aventador. The Lamborghini Aventador is an Italian supercar with an aggressive and eye-catching design. It is equipped with advanced technologies that bring driving pleasure to all who love cars.
Lamborghini Urus. The Lamborghini Urus is a high-performance luxury SUV that combines the brand's iconic Italian design with the practicality and versatility of an SUV. It is the fastest and most powerful SUV in the world.
How much does it cost to rent a Lambo in Dubai?
The price of a Lambo rental in Dubai may vary depending on several factors such as the specific car model, the rental period, the rental company and the time of year.
However, in general, the cost of renting a Lamborghini in Dubai is as follows:
Lamborghini Huracan – $800-1000 per day
Lamborghini Aventador – $1300-1500 per day
Lamborghini Urus – $900-1300 per day
Some rental companies may also offer discounts for longer rental periods or for repeat customers. It is better to check the exact information about prices directly with the rental company.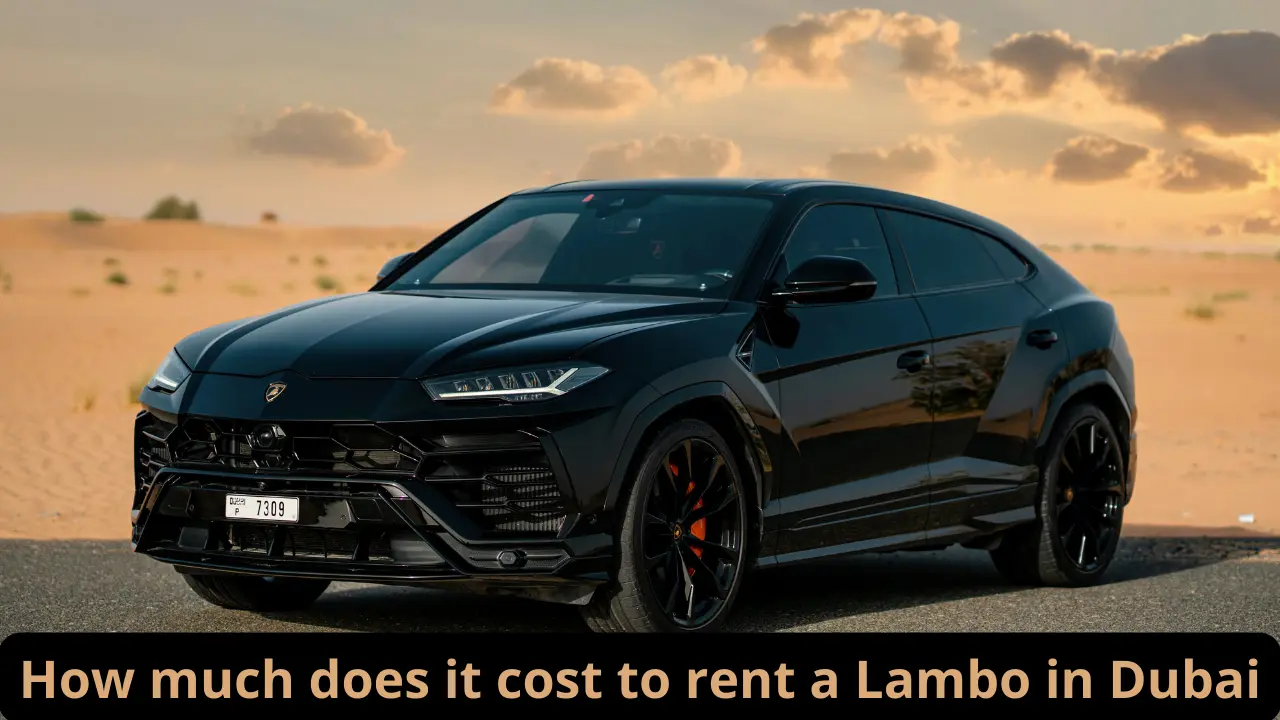 Which car rental company to choose when renting a car in Dubai?
Dubai has numerous different car rental companies to choose from, each with their own unique benefits and drawbacks. Some of the most popular car rental companies in Dubai include:
Sixt Car Rental: A multinational company that rents cars, they have a variety of different vehicles available for rent, including luxury cars like the Lamborghinis.
Hertz: Another international car rental company that has a presence in Dubai, they offer a variety of vehicles for rent, including high-end sports cars.
Avis: A well-known car rental company that offers a variety of different vehicles to rent, including luxury and high-performance vehicles.
Luxury Plus Cars: A car rental company that specializes in luxury and performance vehicles, including Lamborghinis.
Diamondlease: A car rental company based in Dubai that offers a variety of different vehicles for rent, including luxury cars and SUVs.
Ultimately, the company you choose to rent from will depend on your specific needs and preferences, including factors like the type of car you want to rent, the length of time you want to rent it, and your budget. The most effective approach is to research and compare the different rental companies in order to find the one that is most suitable for your needs.
What documents are needed to rent a Lamborghini in Dubai
To rent a Lamborghini in Dubai, you'll typically need to provide the following documents:
A driver's license that's recognized: You must have a valid driver's license from your country of citizenship or an international driver's license to rent a Lamborghini in Dubai. The minimum age to rent a car in Dubai is typically 21 years, but this may differ depending on the company that rents the car and the type of car.
Passport or ID card: You will need to have a valid passport or ID as proof of your identity.
Proof of insurance: You must demonstrate insurance by purchasing the rental company's insurance or providing your own.
Credit card: Typically, you will have to provide a credit card to the rental company as a security deposit. The volume of the deposit will differ depending on the company that rents the car and the type of car.
Driving record: Some car rental companies will require proof of driving experience, specifically for high-end vehicles like the Lamborghinis.
It's crucial to verify with the specific rental company's specific requirements, as they may have additional requirements or documentation based on the rental agreement.